15 Blog Post Ideas to Help Tell Your Story and Build Your Brand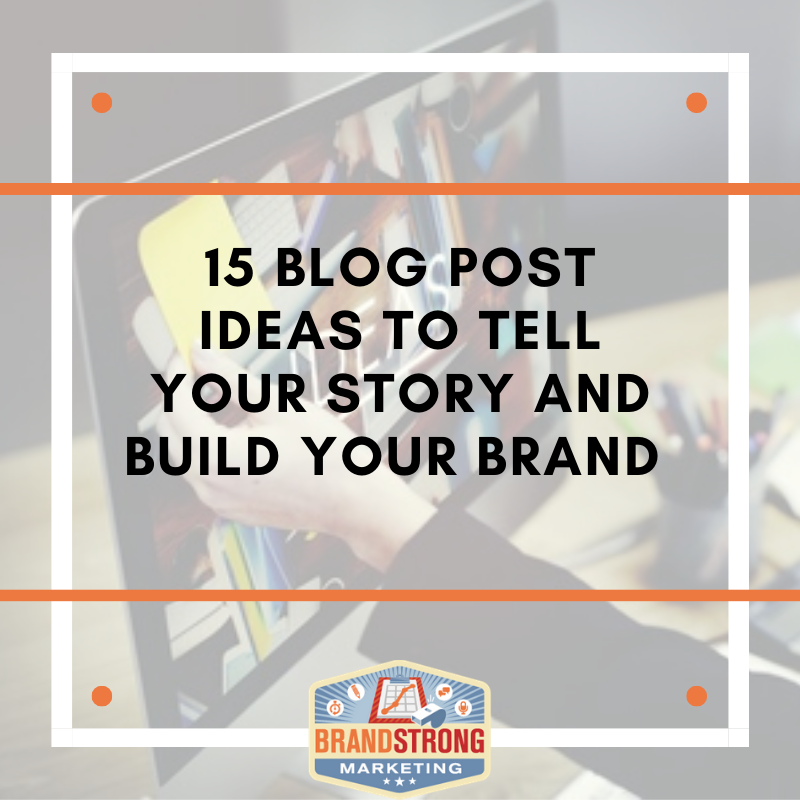 I love research, writing, and sharing my branding knowledge with other business owners. It gives me energy. However, coming up with fresh ideas for blog posts, white papers, lead magnets or other content marketing formats can be daunting some days.
I help a lot of my clients with their Content Marketing markets because it's an incredibly effective B2B marketing tactic. It's a great way to share the brand story, build authority and trust, as well as providing tremendous search engine optimization benefits. Hey, if people can't find you when they are actively searching online for a solution, then you will never be considered an option to solve their problem.
The biggest advantage my clients find with Content Marketing is that it feels more natural to them. Many of the business owners I deal with are uncomfortable selling. Don't get me wrong. They are selling all of the time and they are pretty successful at it. But they say it just doesn't feel natural.
But with Content Marketing, and a focus on creating valuable and relevant content to attract, retain, and ultimately convert their ideal target client, they feel better. Instead of pitching their products or services, they are providing truly relevant and useful content to their prospects and customers to help them solve their issues.
But, as I mentioned, some days the creative well runs dry. So, to help inspire you, here are 15 types of blog posts that keep your content fresh and interesting, as well as help to promote your brand and expertise.
1. How To or Tutorial posts. This is one of the most valuable types of blog posts and brings tremendous value to the reader as well as showcasing your knowledge.
2. Curated Industry News. You can serve as an expert curator by finding the best news online about your industry and consolidating it into a summary post for your audience. Your value comes from finding and recognizing the best content for your industry.
3. Definition posts. To provide value to newcomers to your industry, you can use a blog post to define key terms or processes commonly used in your industry.
4. Problem and Solution posts. By illustrating a problem that you know your audience may have and highlighting a potential solution, you offer value. You can do this as a case story on how you helped a client or simply identify a common problem you see in the market and how you would propose to solve it.
5. Profile posts. Highlight and profile someone in your department each month. These posts are important to showcase the knowledge and expertise that resides within your staff, but it also humanizes your people to create trust and a deeper relationship. You can also conduct profile interviews with other thought leaders in your field. The benefit is that the person being profiled will probably help you promote the post to their audience, which gives you more traffic to your site.
6. Resource posts. If there are some common tools, technology, or resources you rely on heavily, why not share them? You help your readers with ideas on where to get help and you give a shout-out to the resources you can't live without.
7. Comparison posts. If there are two solutions to a problem, why not write a comparison post giving the pros and cons of each alternative. It highlights that you have evaluated many options, not necessarily your own. People will love that you did the work for them.
8. Controversial posts. If you want to get a lot of engagement on your blog, create a controversial post. Disagree with another industry expert, question a common practice in your industry, or defend an idea or process that most people don't like, to grab attention and get a conversation going. However, don't create controversy purely to get comments. Make sure that your argument is well presented, your opinion supports your brand, be open to other ideas, and definitely ask and thank your readers for their thoughts.
9. Inspiring posts. People love to be inspired and inspirational quotes get shared a lot on social media. Tell a story of how someone overcame a challenge in your industry. Or highlight an inspirational quote that really inspired you and your work. Showcase how an employee or even one of your customers is doing something inspiring in their community.
10. FAQ posts. Post the answer to something that your customers ask you quite frequently. Or engage with your audience on the blog or on your social media accounts and ask them what questions they would like answered in future blog posts.
11. Reviews. If a book, publication or product comes out in your industry, review it for your readers. Highlight the main features, indicate who would benefit most, discuss what you like and don't like about it, and finally offer alternatives if you think there is something similar or better in the market.
12. Cheat sheets. A cheat sheet is a handy resource you can look at to find quick answers. Can you create a handy resource for your audience?
13. Checklists. Give your audience a list of things they need to do, evaluate, or collect before completing a task.
14. Behind the scenes posts. If you are going to a conference or industry trade show, provide a behind the scenes look at the event for those who couldn't attend. Or, allow your audience behind the scenes to see how you conduct research, design your product, collect your raw materials, or test products with customers.
15. Trends. Highlight some trends that are happening in your industry that your customers may have missed. "10 of the best practices right now" or "The key takeaways from industry conference XYZ" show that you have the expertise to look at the industry as a whole and identify new trends.
I hope these ideas helped inspire you to start creating valuable content again.