Want to Attract More Clients?
We help small and mid-sized businesses identify their unique brand, grab attention, and be irresistible to more clients. All to get you more sales faster, easier, and with less frustration. We do that through research, crafting an irresistible brand strategy, and then using content, video, and social media marketing to tell your unique story.
Our goal is to strengthen your brand to give your company Brand Swagger – you'll be able to walk into a room and own it because you know what you do, who you do it for, and why you are meaningfully different from your competition.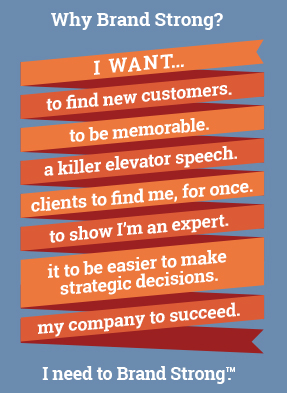 You get that with a strong, healthy brand. You don't stumble when someone asks you what your company does. You don't chase "shiny object" opportunities that distract you from your core business. You can focus your strategic decisions. You can talk passionately about your business and why it is unique. You have a sense of worth because you are proud of your business and feel good about your direction. Most importantly, with this confidence, the right customers will find your brand ATTRACTIVE.
At Brand Strong Marketing, think of us as your Branding, Content, Video, and Social Media Marketing Personal Trainers. We help you look in the mirror and see yourself as others see you (audits), create a "fitness" plan to meet your goals (strategy), train you on the "exercises" to strengthen your brand, and even help you work out and flex your muscles (done-for-you marketing services) when you need someone to spot you.
Let's get to it! Give us a call today so we can help you Brand Strong™!