5 Ways to Thank your Customers on Social Media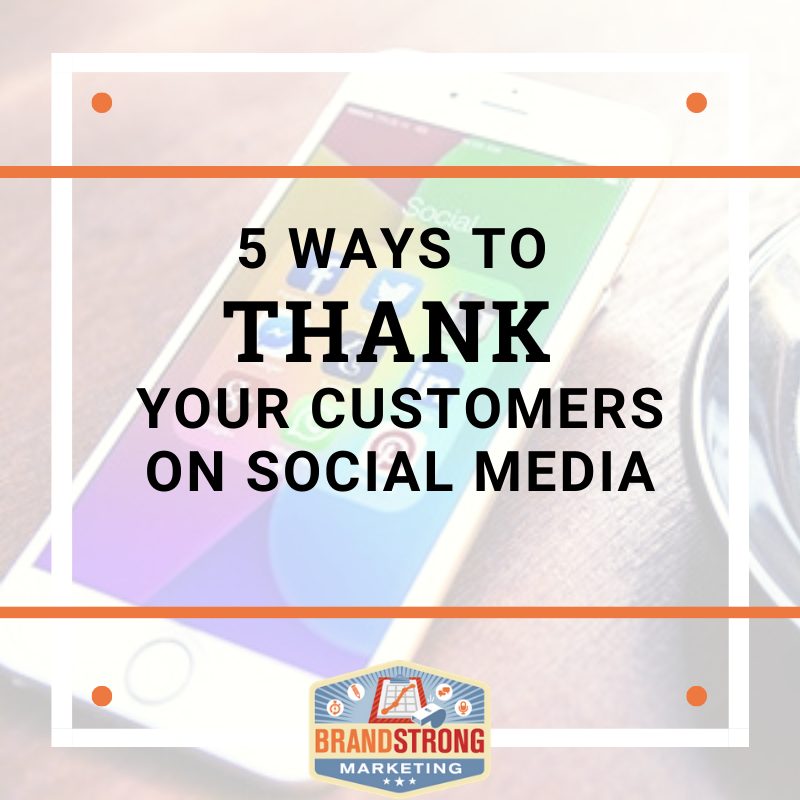 During your crazy, busy day how often do you stop and say thank you? To a customer? Business partner? Referral partner? Probably not often enough.
In fact, it's obvious that we don't do it often enough because when Jake Tapper of CNN thanked his co-worker for working so hard during the election season, it made the news feeds. (It was an awesome thank you, in case you missed it.)
I talk a lot about ways to stand out and be different to strengthen your brand. Well, showing gratitude in business is a HUGE way to stand out and generate goodwill.
Especially, this year since everything has been nuts and for some, scary. So, it's more important than ever for small business owners to reach out and thank their customers for their loyalty and congratulate them on any successes. It's good for business, differentiates your brand, and it just plain feels good to share some kindness.
A great place to share your gratitude is on social media.
Social media is all about creating relationships and interacting with people who are important to your company like customers, prospects, employees, suppliers, partners, referrers. It's an easy way to reach out and build or strengthen the relationship you have with someone. While I am a huge fan of giving and receiving hand-written thank you notes because they are so rare these days, social media channels also provide a unique way to show gratitude. In honor of Thanksgiving, I wanted to share some ideas on how to show appreciation using social media.
Why is using social media such a great idea? Because thanking people on social media not only shares your gratitude with the recipient, but it also provides a public shout out to those individuals you are recognizing. You make them feel good about being appreciated, but as a bonus you make them look good to their peers.
Here are 5 easy ways to thank people or share some love on social media:
Write a recommendation on LinkedIn. LinkedIn recommendations carry weight for building credibility and supporting a brand message. Not only will people appreciate you writing a recommendation for them, but they might be inspired to write one back for you. Extra bonus.
Public shout-outs! Say thank you on LinkedIn, Facebook, or Twitter but instead of sending a direct or private message, use their handle or tag them to send the message – "Thank you @SueSmith!" That way all of your followers and all of THEIR followers see the message too.
Share their content with your followers. For example, if your customer or a referral partner writes a great article on a topic that you think your social media connections would like, then share it. Give them access to your audience for a wider reach. They will love you for the expanded reach.
Leave a comment. If you write a blog or social media post, you know what a great feeling it is to receive a like, share, good comment or any kind of feedback that someone appreciates your work. So, do the same for others. Add to their conversation and help them build more engagement for their content.
Showcase their expertise. The next time you write a blog post, create a video, or record a podcast put a link in to the person you want to show gratitude towards. Whether you link to their blog, web site, YouTube channel, or LinkedIn profile, it gives them a nice link back. Which helps them with SEO! Some fun ways to do this would be to interview them, allowing them to showcase their business or expertise. Ask them to contribute to a round up blog post like "10 Experts Give Us their Best Business Tips." Ask them to be a guest on your podcast. Create a list post like "Best Women Business Owners to Follow on LinkedIn" and include them in the list. Or for an employee, do a monthly employee profile on your blog or social media sites and share a little about that employee.
Make thanking people an important part of your social media strategy all year long, not just around Thanksgiving. It's a great way to make your brand stand out and more importantly, make someone's day.
Have a Happy Thanksgiving everyone!