Small Business Creativity & Ingenuity
One of the things I have been most impressed by the past few weeks is the creativity and ingenuity small businesses are bringing to bear to pivot, upgrade, update, and rethink how they serve their customers. While they say necessity is the mother of invention and some of this innovation is purely to survive, I think it's going to make a difference in what products, solutions, and services are offered going forward. And, it's going to be better for customers.
Here are some examples I have found of small business owners being creative and innovative to provide value to their clients.
Understanding your Customers' New Needs
I love Sweet T's Bakery & Cake Studio in Arlington Heights. If you haven't been, Tammy the owner, is the most creative, amazing cake designer. (Plus her cut-out cookies are adorable and the coffee cake is amazing!) However, the stay-at-home order has definitely impacted her business. Her store is set up so people can come in, linger, and admire the creative sweets. She gets a lot of foot traffic from moms with small kids looking to get out of the house or moms buying treats after dance class at a nearby studio. This has mostly ended.
Knowing that her customers are moms, with small kids who need to be entertained, Sweet T's created new products – decorate at home kits. Her customers have the same need, but different application. So, she took her tasty treats and innovated to turn them into kid-friendly, at-home activities.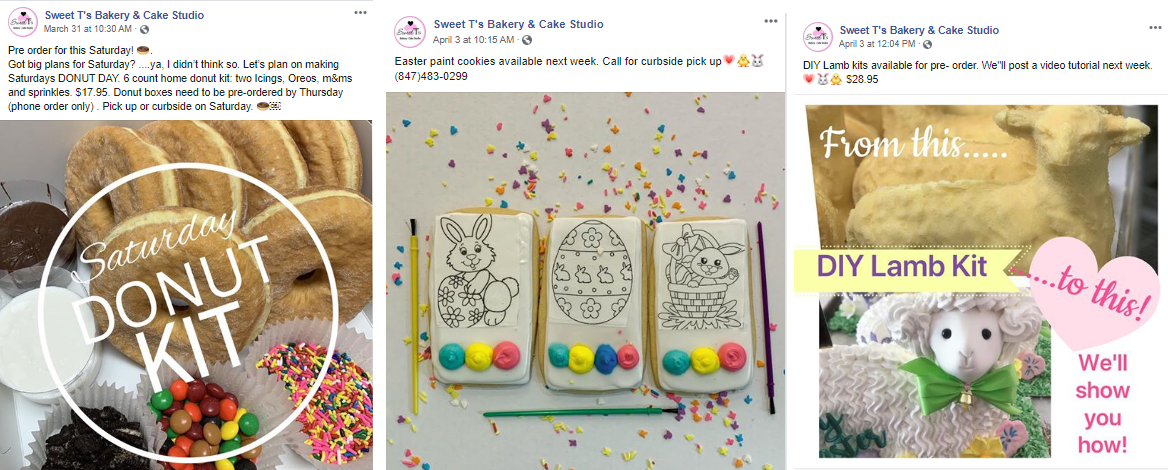 She has kits to decorate your own donuts. For Easter she created egg shaped cookies that kids could paint with edible paint. She also created DIY Easter Lamb Cake kits and posted a video on Facebook to show people how to decorate it.
Her clients love these!
Using Technology to Promote Products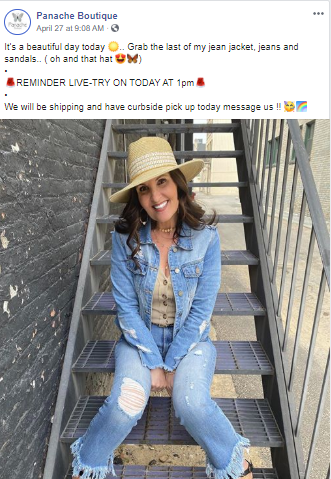 Panache Boutique in Bay City, MI has been suffering with the lack of foot traffic and people browsing in the clothing store. In order to keep engaging with her customers, and move some inventory, the owner Lana innovates by hosting a "try on" Facebook Live event at 1 pm every Monday. Her and her daughter try on several outfits and customers can call in to purchase the outfit or individual pieces for curbside pick-up. They can ask questions about the clothes or accessories in the chat as well. In this article, Lana says that these have worked and she is selling product.
The Perfect Time to Partner
This is the perfect time for small businesses to support each other by innovating offerings together. I am partnering with Parissa Behnia of Sixense Strategy to offer a new Ignite Your Growth Webinar and Mastermind to help companies scale faster and easier this year.
Fast Company Magazine featured two small businesses in Portland partnering up to co-market their services. A home decor and design business, City Home, has partnered with a local florist, Old Town Florist, to offer an incentive to customers.
Select City Home customers will receive a surprise bouquet from Old Town Florist with their delivery. For City Home, the promotion serves as an incentive to purchase. But the florist benefits, too. Since they target similar customers – those that are passionate about home decor – they would be likely to purchase flowers in the future. The florist is building brand recognition and good will. The home decor company is inspiring loyalty from their customers. Win-win!
I would love to hear about more small businesses that are being creative and innovating to meet new customer demands and conditions. If you would like to give a favorite business (or your own business) a shout-out, shoot me an email at [email protected] and I will feature them on social media and in a future article.